Get in the KNOW  
  on LA Startups & Tech  
Kristin Snyder is an editorial intern for dot.la. She previously interned with Tiger Oak Media and led the arts section for UCLA's Daily Bruin.
The first International NFT Day is celebrating the digital assets sweeping the Internet.
The day is meant to highlight the nonfungible tokens that have quickly gained popularity by bringing together companies like a16z, Dapper Labs and Metaverse HQ, among many others. The celebration comes amid the latest crypto crash, perhaps putting a slight damper on things. Still, celebrities like Snoop Dogg are observing the occasion.
From celebrity collection drops to local startups, here's a roundup of all things NFT.
Entering the NFT space can be daunting. Scams abound—Titanium Blockchain CEO Michael Alan Stollery recently pled guilty in a crypto fraud case—and even celebrities like Seth Green aren't immune to phishing. Here's dot.LA's guide to safely investing in NFTs. The key takeaways: do your research and be a bit paranoid.
Earlier this month, the California Assembly passed a bill that would require crypto companies to have licenses. If Gov. Gavin Newsom signs the bill, it could help regulate the space.

LA Is The Epicenter of The Latest Crypto Investing Craze: Crypto IRAs Photo by Viktor Forgacs on Unsplash
Hollywood has gone big on crypto. Talent agency UTA has signed a number of NFT collections and creators to its talent roster. A number of NFTfilms offer viewers exclusive access to behind the scenes content and control over the characters.
Meanwhile, Bored Apes—of Bored Ape Yacht Club fame—are popping up in movies, TV shows and books. Bored Apes recently appeared in "The R3al Metaverse," an animated series that brings together a number of NFT characters. The popular animated figure has also made its way to Cameo, where people can buy videos of the 3D ape in action.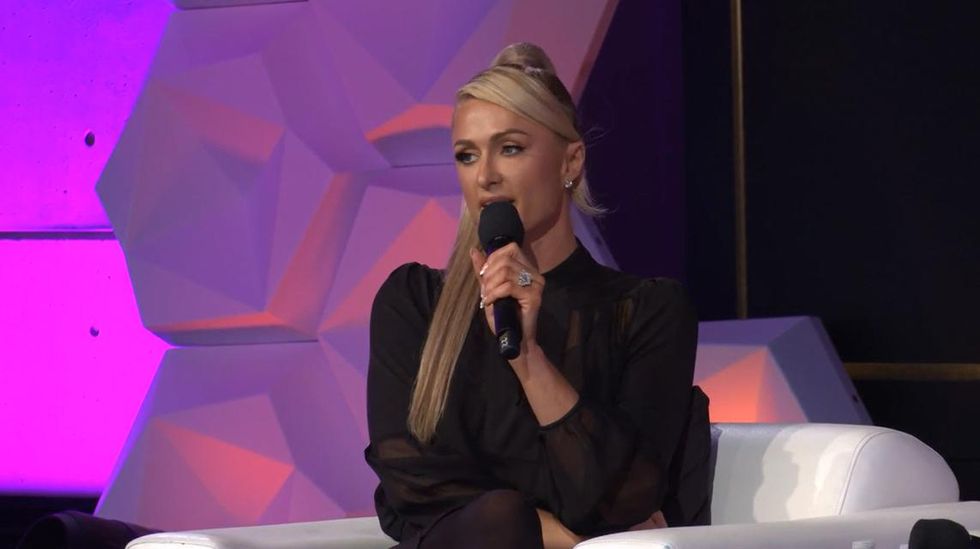 Paris Hilton at the 2022 Upfront Summit in Downtown Los Angeles. Image courtesy of the Upfront Summit
Celebrities are also betting on crypto. But Paris Hilton dubbing herself the "crypto queen" doesn't mean she always follows the rules. The socialite was one of many celebrities to receive a letter from consumer watchdog group Truth in Advertising (TINA). Figures ranging from Justin Bieber to Gwyneth Paltrow were called out for not disclosing financial connections to the NFT collections they were promoting.
Intellectual property laws are also a point of contention with NFTs. Miramax recently settled its lawsuit against filmmaker Quentin Tarantino over his "Pulp Fiction" NFTs—however, plenty of IP-based NFT lawsuits are still up in the air.
Across Los Angeles, a number of startups are riding the NFT wave.
NFL legend Tom Brady launched his NFT agency, Autograph, in 2021. The Santa Monica-based company raised $170 million earlier this year. Celebrities like Tiger Woods and Naomi Osaka have used the platform for their own NFT drops. Brady is capitalizing on fans' apparent affinity for collectibles; most "avid sports fans" are interested in NFTs, according to a survey from National Research Group.
A number of LA startups are trying to make NFTs social. TerraZero sells digital land as NFTs for a virtual bar, while Jadu recently launched NFT avatars for its gaming platform. For those looking to make the digital physical, Long Beach's NFT-themed restaurant accepts crypto payments.
Kristin Snyder is an editorial intern for dot.la. She previously interned with Tiger Oak Media and led the arts section for UCLA's Daily Bruin.
Christian Hetrick is dot.LA's Entertainment Tech Reporter. He was formerly a business reporter for the Philadelphia Inquirer and reported on New Jersey politics for the Observer and the Press of Atlantic City.
When avatar startup Genies raised $150 million in April, the company released an unusual message to the public: "Farewell."
The Marina del Rey-based unicorn, which makes cartoon-like avatars for celebrities and aims to "build an avatar for every single person on Earth," didn't go under. Rather, Genies announced it would stay quiet for a while to focus on building avatar-creation products.
Genies representatives told dot.LA that the firm is now seeking more creators to try its creation tools for 3D avatars, digital fashion items and virtual experiences. On Thursday, the startup launched a three-week program called DIY Collective, which will mentor and financially support up-and-coming creatives.
Similar programs are common in the startup world and in the creator economy. For example, social media companies can use accelerator programs not only to support rising stars but to lure those creators—and their audiences—to the company's platforms. Genies believes avatars will be a crucial part of the internet's future and is similarly using its program to encourage creators to launch brands using Genies' platform.
"I think us being able to work hands on with this next era—this next generation of designers and entrepreneurs—not only gets us a chance to understand how people want to use our platform and tools, but also allows us to nurture those types of creators that are going to exist and continue to build within our ecosystem," said Allison Sturges, Genies' head of strategic partnerships.
DIY Collective's initial cohort will include roughly 15 people, Sturges said. They will spend three weeks at the Genies headquarters, participating in workshops and hearing from CEOs, fashion designers, tattoo artists and speakers from other industries, she added. Genies will provide creatives with funding to build brands and audiences, though Sturges declined to share how much. By the end of the program, participants will be able to sell digital goods through the company's NFT marketplace, The Warehouse. There, people can buy, sell and trade avatar creations, such as wearable items.
Genies will accept applications for the debut program until Aug. 1. It will kick off on Aug. 8, and previous experience in digital fashion and 3D art development is not required.
Sturges said that the program will teach people "about the tools and capabilities that they will have" through Genies' platform, as well as "how to think about building their own avatar ecosystem brands and even their own audience."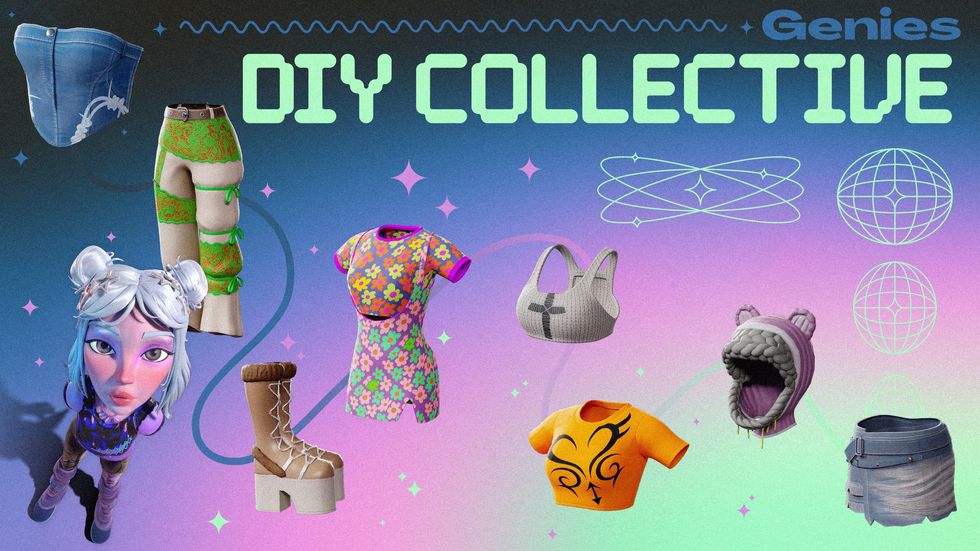 Image courtesy of Genies
Founded in 2017, Genies established itself by making avatars for celebrities from Rihanna to Russell Westbrook, who have used the online lookalikes for social media and sponsorship opportunities. The 150-person company, which has raised at least $250 million to date, has secured partnerships with Universal Music Group and Warner Music Group to make avatars for each music label's entire roster of artists. Former Disney boss Bob Iger joined the company's board in March.
The company wants to extend avatars to everyone else. Avatars—digital figures that represent an individual—may be the way people interact with each other in the 3D virtual worlds of the metaverse, the much-hyped iteration of the internet where users may one day work, shop and socialize. A company spokesperson previously told dot.LA that Genies has been beta testing avatar creator tools with invite-only users and gives creators "full ownership and commercialization rights" over their creations collecting a 5% transaction fee each time an avatar NFT is sold.
"It's an opportunity for people to build their most expressive and authentic self within this digital era," Sturges said of avatars.
The company's call for creators could be a sign that Genies is close to rolling out the Warehouse and its tools publicly. Asked what these avatar tools might look like, the startup went somewhat quiet again.
Allison Sturges said, "I think that's probably something that I'll hold off on sharing. We will be rolling some of this out soon."
Christian Hetrick is dot.LA's Entertainment Tech Reporter. He was formerly a business reporter for the Philadelphia Inquirer and reported on New Jersey politics for the Observer and the Press of Atlantic City.
Christian Hetrick is dot.LA's Entertainment Tech Reporter. He was formerly a business reporter for the Philadelphia Inquirer and reported on New Jersey politics for the Observer and the Press of Atlantic City.
LA Tech Week—a weeklong showcase of the region's growing startup ecosystem—is coming this August.
The seven-day series of events, from Aug. 15 through Aug. 21, is a chance for the Los Angeles startup community to network, share insights and pitch themselves to investors. It comes a year after hundreds of people gathered for a similar event that allowed the L.A. tech community—often in the shadow of Silicon Valley—to flex its muscles.
From fireside chats with prominent founders to a panel on aerospace, here are some highlights from the roughly 30 events happening during LA Tech Week, including one hosted by dot.LA.
DoorDash's Founding Story: Stanley Tang, a cofounder and chief product officer of delivery giant DoorDash, speaks with Pear VC's founding managing partner, Pejman Nozad. They'll discuss how to grow a tech company from seed stage all the way to an initial public offering. Aug. 19 at 10 a.m. to 12 p.m. in Santa Monica.
The Founders Guide to LA: A presentation from dot.LA cofounder and executive chairman Spencer Rascoff, who co-founded Zillow and served as the real estate marketplace firm's CEO. Aug. 16 from 6 p.m. to 9 p.m. in Brentwood.
Time To Build: Los Angeles: Venture capital firm Andreessen Horowitz (a16z) hosts a discussion on how L.A. can maintain its momentum as one of the fastest-growing tech hubs in the U.S. Featured speakers include a16z general partners Connie Chan and Andrew Chen, as well as Grant Lafontaine, the cofounder and CEO of shopping marketplace Whatnot. Aug. 19 from 2 p.m. to 8 p.m. in Santa Monica.
How to Build Successful Startups in Difficult Industries: Leaders from Southern California's healthcare and aerospace startups gather for panels and networking opportunities. Hosted by TechStars, the event includes speakers from the U.S. Space Force, NASA Jet Propulsion Lab, Applied VR and University of California Irvine. Aug. 15 from 1 p.m. to 5 p.m. in Culver City.
LA Tech Week Demo Day: Early stage startups from the L.A. area pitch a panel of judges including a16z's Andrew Chen and Nikita Bier, who co-founded the Facebook-acquired social media app tbh. Inside a room of 100 tech leaders in a Beverly Hills mansion, the pitch contest is run by demo day events platform Stonks and live-in accelerator Launch House. Aug. 17 from 12:30 p.m. to 3 p.m. in Beverly Hills.
Registration information and a full list of LA Tech Week events can be found here.
Christian Hetrick is dot.LA's Entertainment Tech Reporter. He was formerly a business reporter for the Philadelphia Inquirer and reported on New Jersey politics for the Observer and the Press of Atlantic City.
After a Baltimore judge ordered the release of Adnan Syed—Syed was convicted for the 1999 murder of high school student Hae Min Lee—augmented reality app CrimeDoor made sure to let people know they could walk around the blood-splattered crime scene.
The campaign to lure users back to the scene of Lee's murder began on September 17th. The day before news of Syed's release was announced, CrimeDoor posted a side-by-side photo of Syed and Lee on Instagram with a reminder that the "hearing was scheduled for Monday."
See on Instagram
After the Associated Press announced the news, CrimeDoor tweeted an alert from their official Twitter account with another side-by-side photo, this time just of Syed. One photo from 1999, taken before he was accused of Lee's murder. And another, more recent photo of Syed wearing a blue, maximum custody prison uniform.
Inside the app itself, the image carousel at the top featured the same side-by-side image with a "Breaking News" banner. A few rows down, in the "Recently Updated" section, users were shown a photo of Lee that clicks through to the 3D crime scene. Of course, the crime scene is locked. But for $4.99 anybody can know what it's like to explore the site of Lee's murder as it appeared right after the crime occurred.
The subtext here was obvious: Maybe you can be the one to solve the case.
And for that matter, the marketing campaign worked. According to Google Trends, searches for CrimeDoor spiked on the day after the news of Syed's release. Additionally, dot.LA's original article about the Los Angeles-based company also saw a nearly 1000% jump in traffic from Google search.
That CrimeDoor sent out these alerts isn't surprising. CrimeDoor is, however, notorious for pushing new updates when old murders are back in the news. Last year, they released the augmented reality edition of the drive-by shooting of Notorious B.I.G., aka Christopher Wallace, on the 24th anniversary of the Brooklyn native's murder outside the Peterson Automotive Museum.
The release was part of CrimeDoor's special series on historical crimes that led off with a 3D recreation of the crucifixion of Jesus Christ. It also included the murder of Abraham Lincoln, Martin Luther King Jr. and John F. Kennedy. As part of the series launch, CrimeDoor also sent out a press release to reporters promising to let users "experience final moments in history." One of those moments was the murder of George Floyd presented, "for the first time in-person via augmented reality." After public backlash, CrimeDoor canceled plans for that augmented reality murder scene.
In response to the backlash, CrimeDoor's founder Neil Mandt told dot.LA last year that the families of two unsolved murder victims actually helped build out their respective crime door scenes for the app. "The awareness on those cases has significantly jumped, as a result of our efforts," Mandt said.
It should however be noted that up to this point, users have yet to help solve an actual case.
CrimeDoor did not respond to requests for comment on this story.
Nonetheless, if interest in the app after the announcement of Syed's release is any indication, the future of visiting murder scenes via augmented reality will likely continue to be be a lucrative business.
© dot.LA All rights reserved