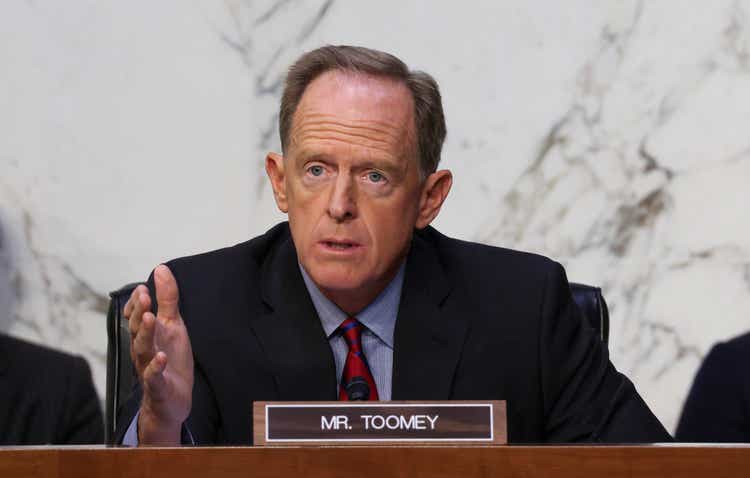 Kevin Dietsch
U.S. senators Patrick Toomey (R-PA) and Kyrsten Sinema (D-AZ) have introduced a bill that would exempt Americans from reporting cryptocurrency transactions of less than $50, or trades in which they earn under $50, according to a release dated Tuesday.
The bipartisan Virtual Currency Tax Fairness Act comes on the heels of similar legislation introduced earlier in 2022 by senators Cynthia Lummis (R-WY) and Kirsten Gillibrand (D-NY).
"While digital currencies have the potential to become an ordinary part of Americans' everyday lives, our current tax code stands in the way," said Toomey.
The new bill, which complements the Virtual Currency Tax Fairness Act introduced earlier this year in the House of Representatives, aims to "allow Americans to use cryptocurrencies more easily as an everyday method of payment by exempting from taxes small personal transactions like buying a cup of coffee," Toomey added.
Nevertheless, the Internal Revenue Service (IRS) continues to stand by its policy that any crypto transactions can be subject to capital gains tax. "When you sell virtual currency, you must recognize any capital gain or loss on the sale, subject to any limitations on the deductibility of capital losses," according to the agency's website. Crypto advocates, in turn, have argued that the widespread use of digital tokens as a medium of payment is limited partly because of that policy among other factors such as price volatility.
"Cryptocurrency needs the same exemption for small, personal transactions that we have for foreign currency," said Jerry Brito, executive director of Coin Center. "This would foster use of crypto for retail payments, subscription services, and micro transactions. More importantly, it would foster the development of decentralized blockchain infrastructure generally because networks depend on small transaction fees that today saddle users with compliance friction that no doubt costs the economy more than the tax revenue that's otherwise generated."
Scanning through the cryptosphere, bitcoin (BTC-USD) is falling 4.5% to $20.83K over the past 24 hours, and ethereum (ETH-USD) is dropping 9.3% to $1.36K as of shortly before 3:00 p.m. ET.
Earlier this week, (July 25) House lawmakers were said to delay bipartisan stablecoin bill until September.
Dear readers: We recognize that politics often intersects with the financial news of the day, so we invite you to click here to click here to join the separate political discussion.