Decred (DCR) price is up over 20% today amid general bearish sentiment in the cryptocurrency market. Decred is one of the oldest digital assets on the market, copying Bitcoin's code and modifying it to enable DAO governance and a hybrid Proof-of-Work consensus mechanics, effectively reducing the environmental footprint of Decred's blockchain. Let's look at what Decred is exactly and why the DCR price is pumping today.
Decred is a digital asset similar to Bitcoin, launched in February 2016. Among the newer DeFi and Metaverse digital assets, Decred is a pioneer in the industry.
The project's primary focus is on security, adaptability, and sustainability. According to Decred's official website:
"Network security is the foundation to any financial system. Agreement on transactions and account balances, also known as consensus, is vital to confidence in the currency and can be measured by both longevity and analysis of its resistance to various attack vectors."
It's refreshing to see a project go back to basics by providing a secure store of value similar to Bitcoin, without the extra fluff of staking, NFTs, Stablecoins, DeFi, and other crypto trends, which by no means are attractive, but create countless opportunities for malicious actors to take advantage of and cause chaos in the market, just take a look at what happened with Terra Luna and how it affected not only the underlying project but the global crypto economy as well.
One inherent advantage for Decred over Bitcoin is its increased adaptability. The Decred ecosystem has a built-in formal system that ensures a way for the protocol to upgrade and facilitate change. There's no need to create forks in the blockchain, which can be problematic and can cause significant instability in the network and the market.
Last but not least, Decred is looking at the long-term impact of blockchain technology, creating a sustainable ecosystem, and establishing a superior long-term store of value with its model. The project directs 10% of every block reward into a Project Treasury, whose balance is managed conservatively to promote the network. Governance decisions are determined by its Decentralized Autonomous Organization, which influences the policies, budgets, and overall direction of the project.
While June's report isn't out yet, Decred's May 2022 report indicated an active and growing ecosystem for DCR.
Among several governance decisions, Decred upgraded the core software from v1.7.2 to v1.7.3. In addition, the long-awaited GoDCR Desktop wallet for Decred written purely in golang was released on mainnet on May 23rd after almost eight months in development.
If you haven't yet, we recommend checking it out as it's always best to store cryptocurrency on your device than on an exchange that can halt withdrawals or go under at any time.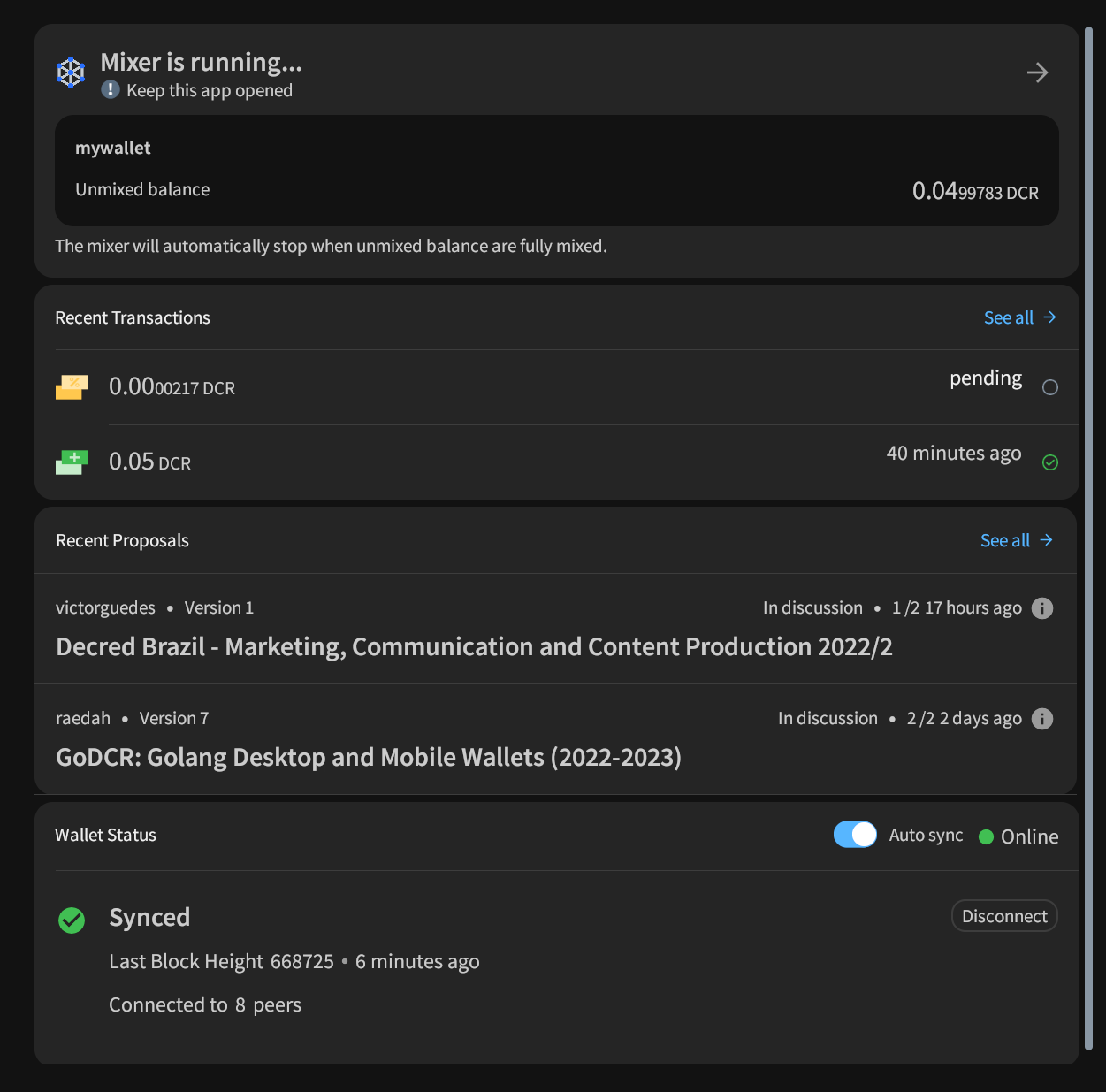 The GoDCR wallet enables users to send and receive tokens, stake DCR for rewards, has built-in wallet privacy, provides a way to vote on proposals, and much more.
In addition, new versions of Android and iOS wallets (v1.7.0) were released on May 11th, another great option if you prefer to store DCR tokens on mobile devices.
Dozens more developments happened in May, including updates to Politeia – Decred's proposal system, improvements to DCRDEX – a non-custodial exchange for Decred, and much more.
In addition, some recent news for Decred includes the first DAO payouts with new rules, completing their Decentralized Exchange's Solidity contract audit, mixing at an all-time high, and more.
Check out this YouTube video for a recent update on Decred:
Decred (DCR) saw a significant pump from a low of $20 to $27 in a matter of minutes, which came with an equally substantial buy volume increase, suggesting some big investors entered the playing field.
With the recent price hike, Decred's market capitalization is at a respectable $333 million with a fully diluted market cap of $493 million. The 24-hour trading volume is relatively low at $10.7 million, with a circulating supply of 14 million DCR.
If you're looking for a long-running project whose primary focus is on providing a stable and secure store of value via blockchain tech, we recommend keeping an eye on Decred. With the increasing number of malicious attacks, the market needs more projects focusing on the basics of blockchain, taking a few steps back from the hype of NFTs, Metaverse, and DeFi.
Disclosure: This is not trading or investment advice. Always do your research before buying any cryptocurrency or investing in any project.
Follow us on Twitter @thevrsoldier to stay updated with the latest Metaverse, NFT, A.I., Cybersecurity, Supercomputer, and Cryptocurrency news!
Image Source: karnoff/123RF
Click to subscribe to our weekly newsletter
Xchange Monster (MXCH) is a GameFi platform aiming to create a new dynamic catering to the needs of gamers and…
© 2022 The VR Soldier
© 2022 The VR Soldier