BOULDER, Colo. – January 26, 2023 – ( Newswire.com )The NFT market turmoil is palpable. Rampant speculation, a slew of bad actors, and technical knowledge barriers form a perfect storm of confusion. …
Already have an account? Log in to continue.
Current print subscribers can create a free account by clicking here.
Otherwise, click here to subscribe.


To Our Valued Readers –
Visitors to our website will be limited to five stories per month unless they opt to subscribe. The five stories do not include our exclusive content written by our journalists.
For $5.99, less than 20 cents a day, digital subscribers will receive unlimited access to YourValley.net, including exclusive content from our newsroom and access to our Daily Independent e-edition.
Our commitment to balanced, fair reporting and local coverage provides insight and perspective not found anywhere else.
Your financial commitment will help to preserve the kind of honest journalism produced by our reporters and editors. We trust you agree that independent journalism is an essential component of our democracy. Please click here to subscribe.
Sincerely,
Charlene Bisson, Publisher, Independent Newsmedia


Click here to see your options for becoming a subscriber.
Click here create a free account for posting comments. Note that free accounts do not include access to premium content on this site.
BOULDER, Colo. – January 26, 2023 – ( Newswire.com )
The NFT market turmoil is palpable. Rampant speculation, a slew of bad actors, and technical knowledge barriers form a perfect storm of confusion. But at the eye of this storm is the question: Are NFTs the latest Ponzi scheme or a new asset?
Skry believes NFTs represent the latter: a new form of digital-native asset. While confusion and skepticism exist, the idea of a digital collectible will be commonplace. Skry looks to examples like the Reddit CryptoSnoos NFT launch as indicators of where NFTs are heading. A series of NFTs termed "digital collectibles" took off among a decidedly anti-crypto audience. When you peel back misinformation and layers of techno-babble, it's obvious there is demand for natively digital asset ownership.
As with any asset class, a lack of quality standards creates ambiguity. Skry contends this is the central issue affecting NFTs today. Getting scammed is easy if there are no objective criteria for what you are buying. Apart from intentional scams, creators need more technical know-how to launch an NFT with staying power. We need people-friendly metrics to gauge quality before NFTs become accessible.
"We need to work together to aggregate strategies, analyses, and best practices from collectors, creators, and developers to build standards around NFTs or we'll continue running into problems," said Mike Roth, co-founder and CEO of Skry. 
Skry understands this is easier said than done. NFTs are multifaceted, but Skry believes the way forward is to focus on specific use cases and their existing examples.
Roth continued, "Framing NFTs specifically as digital collectibles helps create standards by looking at what already exists, for example, trading card grading and secondary markets like StockX. For each of these, a major factor is the social context. While hard to quantify, we know community is an obvious component of a collectible's value. Apart from that, there are technical components like any other asset. With a baseball card, you want to know if it is torn or damaged. With NFTs, the most NFT-native technical factors are how decentralized the collection is and what the mint mechanics were." 
Skry aggregates community engagement, code quality, and market performance, then outputs those factors as an "insights grade." The grade rates collections from A (high quality) to D (low quality) with the goal of A-rated collections being less volatile over the long run. The platform presents insights as bite-sized chunks anyone can quickly parse without hours of Discord surfing or becoming a smart-contract developer.
Skry understands that creating standards takes years of proven data and market endurance to decide what "quality" looks like. Because of this, the Skry Insights Grade improves as the market evolves through the use of machine learning. Skry recently launched a dashboard to visualize this evolution of its rating system over time. To view the new dashboard and learn more about Skry, visit  skry.xyz/about.
Contact Information:
Mike Roth
CEO
press@skry.xyz
Press Release Service by Newswire.com
Original Source: Skry Helps You Find NFT Collectibles Worth Collecting
Other items that may interest you
Most popular stories in Daily Independent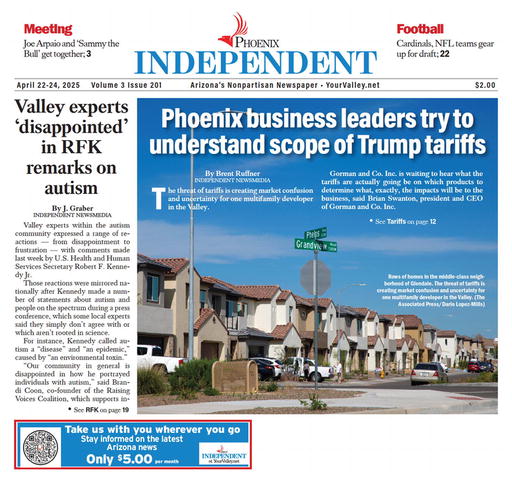 Read the latest print edition here.
View this issue
<!– Browse other issues –> Browse other issues
DON'T MISS A BEAT: Simply submit your e-mail address below, click on the opt-in email link and watch your inbox for news from the Daily Independent at YourValley.net. Thank you for reading!
Robby Fabbri scored at 2:36 of overtime to give the Detroit Red Wings a 4-3 victory over the Montreal Canadiens on Thursday night. Michael Rasmussen set up Fabbri with a pass through the crease. …
Rozier, Plumlee lead Hornets past Bulls 111-96
Ovechkin scores, Capitals beat Penguins 3-2 in shootout
Ryder extends Farmers lead to 3, Rahm gets hot on windy day
World champs Knierim, Frazier dazzle in Day 1 at nationals
Lawsuit: Vegas Strip resorts used vendor to fix hotel rates


YourValley.net
623-972-6101
17220 N Boswell Blvd
Suite 230E
Sun City AZ 85373
Email: azdelivery@iniusa.org