GaryVee is the world's favourite NFT influencer, earning $56,400 per Instagram post, new research reveals.
The research, from Traders of Crypto, has analysed the top NFT influencers across YouTube, TikTok, Instagram and Twitter, to reveal which influencers have the biggest following on each platform and their Instagram earnings per post. 
Get The Full Walter Schloss Series in PDF
Get the entire 10-part series on Walter Schloss in PDF. Save it to your desktop, read it on your tablet, or email to your colleagues.
Q1 2022 hedge fund letters, conferences and more

There's been much debate about whether a recession is right around the corner or not. The hedge fund industry seems split on the matter. Managers who are rightly angered by the irresponsibly loose monetary policy that has dominated the world's central banks are predicting a hard landing and a recession, but those who don't see Read More
GaryVee (otherwise known as Gary Vaynerchuck) is the world's favourite  NFT influencer, having the biggest following across all four platforms. Vaynerchuck has accounts across all social media platforms, including 13.6 million TikTok followers. He also earns a whopping $56,400 per Instagram post, giving GaryVee an exceptional score of 10/10 for NFT influence.
Elliot AKA EllioTrades followed in second place with an NFT influence score of 6.98/10. EllioTrades has 734,200 Twitter followers and earns $2,900 per Instagram post. . EllioTrades however does not have a TikTok presence, therefore contributing to his second place.
Farokh has the third-best NFT influence, with a score of 6.46/10. Farokh has active accounts on all platforms but YouTube. Farokh has amassed a total follower count of over half a million across Instagram, TikTok, and Twitter, including 288,600 Twitter followers.
Two of the top ten NFT influencers are female, with Josie Bellini ranking in sixth place and Artchick ranking in eighth place. Josie is a pioneering artist and designer who has been creating cryptoart since 2017, whereas Artchick is known for calling attention to female creators, collectors, and crypto-comrades.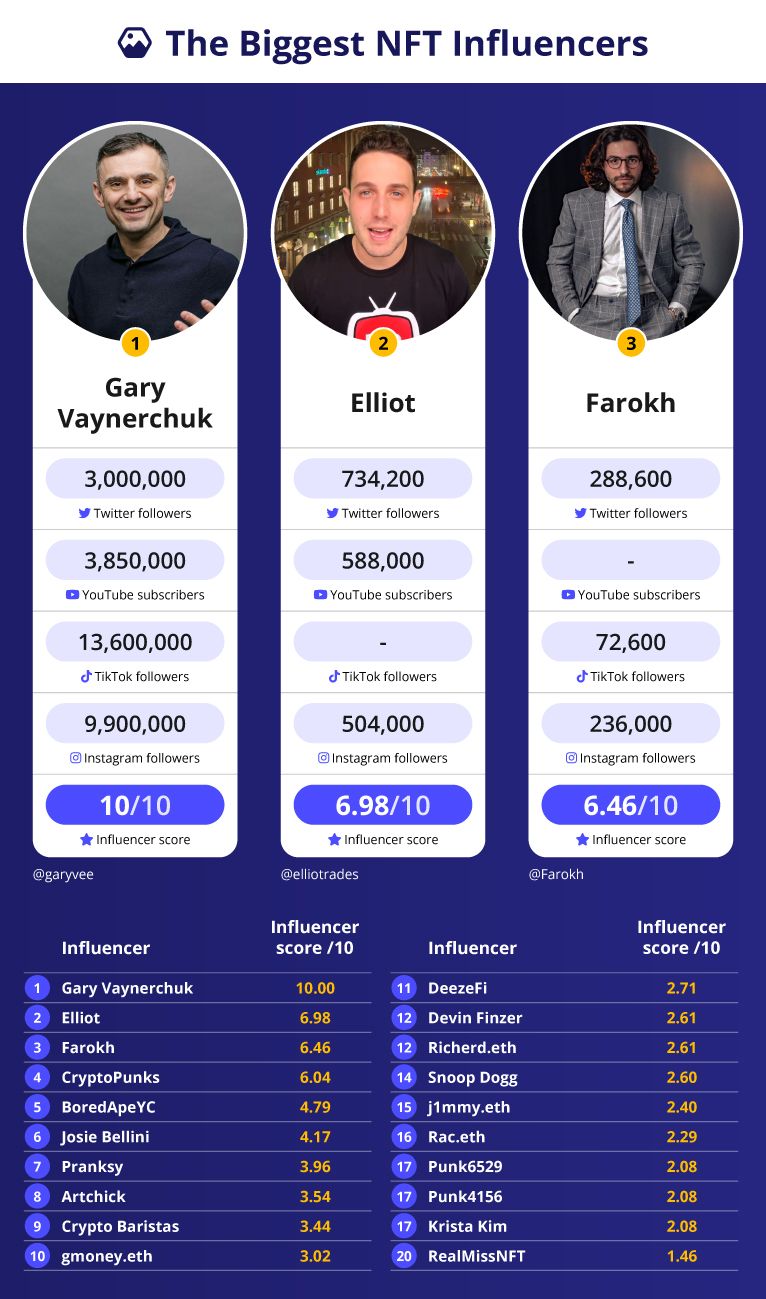 Updated on Jun 13, 2022, 10:36 am
Never Miss A Story!
Subscribe to ValueWalk Newsletter. We respect your privacy.
(function () {
var jo = document.createElement('script');
jo.type = 'text/javascript';
jo.id = 'FJVoiceFeed';
var r = Math.floor(Math.random() * (9999 – 0 + 1) + 0);
jo.src = 'https://www.financialjuice.com/widgets/voice-player.js?mode=inline&display=1&container=FJ-voice-news-player&info=valuewalk&r=' + r;
document.getElementsByTagName('head')[0].appendChild(jo);
})();

ValueWalk.com is a highly regarded, non-partisan site – the website provides unique coverage on hedge funds, large asset managers, and value investing. ValueWalk also contains archives of famous investors, and features many investor resource pages.
Mission: Providing a framework to improve your investing PROCESS, while collecting newsworthy information about trends in business, politics and tech areas.
Please speak to a licensed financial professional before making any investment decisions.

 
Never Miss A Story!
Subscribe to ValueWalk Newsletter. We respect your privacy.

Subscribe